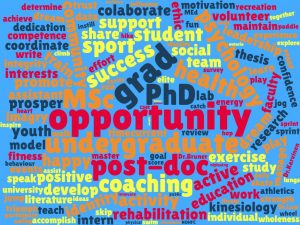 The NORTH PA lab is currently seeking motivated individuals to join our team. We offer a rich learning environment coupled with extensive research experience and state-of-the-art facilities.
Graduate Student Opportunities
Through the School of Graduate Studies at Nipissing University, students have the ability to complete a Master of Science in Kinesiology (MSc Kin), Master of Education (MEd), or a PhD in Education (PhD). The faculty of the NORTH PA lab are experienced in mentoring and supervising students completing graduate studies in all three programs. Choosing to complete a MSc Kin, MEd or PhD under the guidance and experience of the NORTH PA faculty prepares students for a broad range of exciting careers and future research training. Students interested in pursuing graduate studies are encouraged to contact the NORTH PA faculty member(s) that best fit with their specific research interests.
Post-Doctoral Studies
The NORTH PA faculty members are experienced mentoring post-doctoral fellows. Graduates of a PhD program who wish to work as a post-doctoral fellow are encouraged to contact their desired supervisor within the NORTH PA lab.
Undergraduate Theses
The NORTH PA lab is available to supervise fourth year undergraduate student thesis projects as well as student leadership placement opportunities. Students interested in completing PHED 4995 within the NORTH PA lab should contact the specific faculty member they would like to work with based on their research interests.
Paid Opportunities
There are often a variety of paid research assistant (RA) and internship opportunities within the NORTH PA lab both during the academic year and over the summer months.
Through the Northern Ontario Heritage Fund Corporation (NOHFC)'s Northern Ontario Internship Program, the NORTH PA lab successfully employs recent graduates holding a university undergraduate degree in physical education, kinesiology, human kinetics or other related discipline under the position of Research Coordinator/Intern. This one-year internship is designed to strengthen Northern Ontario's competitive advantage and develop graduates' knowledge and experience in their field. In addition to the NOHFC internship program, the NORTH PA lab also employs Lab Coordinators as well as RAs to assist with specific research projects. These positions are made possible through research project grant funding.
Volunteer Opportunities
Students may also volunteer within the lab to increase their knowledge, experience, and develop their research skills. Positions are available during winter and spring academic terms, as well as over the summer.  
Please use our Contact us page to inquire about the opportunities within our lab, or alternatively, feel free to contact the NORTH PA faculty member(s) of your choice.