Members of the NORTH PA laboratory attended the Northeastern Ontario Coaching Summit in North Bay, Ontario on November 23rd, 2019. This coaching summit hosted by Canadore College, was the first coaching conference to be held in Northern Ontario!
Dr. Mark Bruner, Dr. Barbi Law, Dr. Colin McLaren, and 2nd year MSc Kin student Rachel Van Woezik presented an inviting break out session titled, "Building Effective Teams", which provided evidence-based strategies that can be used with teams and/or athletes.
During this session, Dr. Mark Bruner introduced a social identity perspective to team building as well as facilitated an exercise with fellow colleagues that challenged individuals to map out their 'social world'.
Dr. Barbi Law introduced www.SportPsychologyforCoaches.ca and discussed its development and implementation. This free online evidence-based resource for coaches includes information about mental skills and activities that they can adapt and implement with their athletes.
Dr. Colin McLaren shared his knowledge with those who attended the Northeastern Ontario Coaching Summit on how to choose captains using a 'bottom up' approach and the social network analysis to select a group.
Rachel Van Woezik shared some strategies in order for coaches to prepare for and manage injury in their athletes prior to the competitive season.
Keynote speakers included Beth Barz, a former U Sport Women's Rugby coach of the year and Danielle Sauvageau, a former Canadian Women's Olympic Hockey coach and gold medal winner.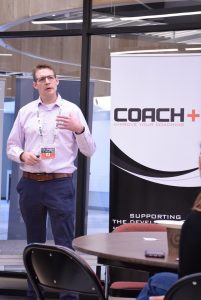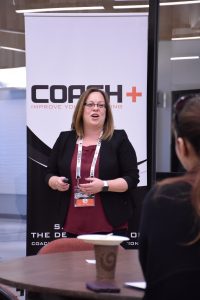 To learn more about the first Northeastern Ontario Coaching Summit, visit their website here at https://improveyourcoaching.ca/summit/.